Cyber Security Training
Cyber security training teaches you how to protect information, networks, and software in the cyber domain and respond to cyber-attacks.
It is an integral part of information technology and is rapidly growing with the advancements in technology.
Cyber crimes are increasing at a rapid pace and are becoming a major threat to society.
War in cyber space is devastating and deadly.
Hence, to combat these issues, everyone should learn to protect themselves and their data.
A security analysis course teaches people how to use devices and systems safely and effectively.
It includes instructions on how to configure devices and applications, as well as how to audit systems and applications for security threats.
Setting up a firewall at home helps protect your data from cybercriminals.
Protecting your device requires updates from the manufacturer and a good understanding of security settings.
People also need to keep their applications up to date to avoid malicious code entering their system.
All these things help prevent cyber crimes.
CYBER CRIMES ARE INCREASING RAPIDLY DUE TO TECHNOLOGICAL ADVANCEMENTS.
These include hacking, denial of service, data tampering, and surveillance.
Hacking involves accessing computers or networks without permission or authorization.
It includes using viruses, worms, trojans, logic bombs, and exploits to gain entry to systems.
Denial of service involves targeting systems with such high amounts of traffic that the system is rendered unusable.
Data tampering involves altering or deleting computer data without consent or authority.
And surveillance involves collecting data about people without their consent or knowledge.
All these actions are taken by cybercriminals to commit various crimes against society.
A major war in cyber space would be devastating and deadly for both sides- as it would delete data, disrupt business operations, cause economic damage and create FDI famine in the countries against which it is fought.
This doesn't imply that countries don't fight in cyber space; they only do so sparingly so as not to disturb the general public's security measures.
However, there have been instances where entire nations engage in cyber warfare against other nations- particularly hostile nations with which they have territorial disputes over land or sea resources or strategic significance.
Everyone should take precautions when using their devices or accessing the internet.
Safety measures include updating devices, setting up security alarms, learning how to protect your data, and avoiding dangerous websites and apps.
The world is quickly changing due to technological advancement; if we don't change with it, we may soon find ourselves in a major crisis due to cyber crimes or cyber warfare!
Unfortunately, not all government entities are as proactive when it comes to cybersecurity.
For example, most public offices still use old computer systems without any protection or redundancy measures.
This makes them vulnerable to hacking attempts- which can leak personal data or disrupt services altogether.
Consequently, several experts recommend upgrading outdated systems with cybersecurity features such as two-factor authentication and web filters.
Doing so will improve security measures for every citizen while reducing costs at government institutions.
Many consider Indonesia the front runner in the Information and Communication Technologies (ICT) sector, especially in the field of cybersecurity.
The country has a growing number of internet users and a competent government.
However, there is still room for growth in areas like education and job creation.
If Indonesia continues to succeed in its goal of becoming a cyber-power, other countries will follow suit and adopt its successful strategies.
Not only is Indonesia rapidly improving its ICT stKalianrds, but it's also becoming more internet savvy.
The number of internet users in Indonesia has grown exponentially over the past decade.
This has led to an increase in the storage, transfer, and usage of data.
Consequently, there's an increased need to secure that data by using cybersecurity tools.
Government initiatives such as the National Cybersecurity Policy have contributed to this by encouraging citizens to protect themselves online.
In addition, technological advances such as hardware encryption have made it easy for users to secure their data.
TO IMPROVE INTERNET SECURITY AMONG PRIVATE CITIZENS, GOVERNMENT AGENCIES, AND CORPORATIONS, JAKARTA INFORMATION SECURITY AGENCY (JKA) MAINTAINS A LIST OF SECURITY TOOLS ON ITS WEBSITE.
These include antivirus software, firewalls, web browsers, and data backups.
In addition, JKA provides training courses on internet cyber security through universities and organizations like Microsoft Indonesia.
They also run awareness campaigns through social media like Facebook and Twitter to spread information about online safety.
All in all, the growing demand for security tools shows that people are becoming increasingly aware of the dangers of online intrusions.
Not only is there great potential for increased cyber safety in Indonesia, but it's also showing promise as a cyber power.
Many private citizens are adopting favorable tools such as antivirus software to safeguard themselves online.
Furthermore, the government is building up its cybersecurity capabilities so it can protect its citizens effectively too.
Only time will tell if this hard work will pay off in a more secure nation!
Cyber security is the protection of information, systems, networks, and the internet from malicious acts or unexpected occurrences.
It's an ever-evolving field, and there's no single definition for the concept.
Some countries have put laws in place to promote cybersecurity, and hackers seek to break into government and corporate systems to steal sensitive data.
Many people recognize that they need to learn how to protect their online accounts and devices.
That's because some users don't understand the risks they're exposing themselves to with weak security protocols.
Anyone who wants to work in cybersecurity needs to know how to protect valuable data.
Cyber security training teaches you how to prepare for and respond to cyberattacks.
Many schools run courses for new cybersecurity professionals that last several months.
Those are long because instructors cover all the topics needed to work in the field effectively.
These courses are intensive and require students to spend a lot of time working on their training during class time.
That way instructors can ensure every attendee understands the lessons before moving on to the next portion of the course.
After completing a course, attendees can apply their knowledge to real-life situations through internships or jobs in cybersecurity.
Anyone looking to work in cybersecurity needs solid computer skills and a willingness to learn new techniques for protecting data sources.
There are plenty of ways to learn without enrolling in a formal training course; instead, take things into your own hands! Go online and read books about computer security or join a forum where people share knowledge about protecting themselves online.
Finally, if you want a career in cybersecurity, apply your skills toward protecting data sources in your country or abroad at military bases.
MOST PROFESSIONALS WORKING IN CYBERSECURITY NEED STRONG COMPUTER AND INTERNET SKILLS.
Malicious actors don't always target high-security servers or apps; they also go after low-level users with weak security settings.
This means experienced computer users can cause a lot of problems by exploiting common settings on their devices.
Many people work in cybersecurity by setting up security systems for companies or government agencies.
They do this by installing software on computers and managing networks.
To do this, they need plenty of experience with computers and the internet.
There's no better way to learn how to protect yourself online than by doing it yourself.
Popular ways of doing that include reading books, listening to online courses, and joining forums dedicated to learning new techniques for protecting your accounts.
There are also many online courses you can take for free that teach you basic cybersecurity lessons such as password creation and incident response planning strategies.
Many times these are offered by universities as part of their curriculum, but non-university programs are starting up as well.
In addition, governments run cyberdefense academies where you can volunteer as a soldier defending national interests from cyberattacks.
All you have to do is make the effort!
Cybersecurity is the protection of computers, networks, software, and other electronic systems against disruption, destruction, access, or alteration.
It's a rapidly growing field with many job opportunities for college graduates.
Employers need to hire security specialists to protect their data and systems from hackers.
People also need to take precautions against viruses and malware when using technology.
Working in cybersecurity is both challenging and rewarding.
VARIOUS INSTITUTIONS CREATE MANY NEW JOBS FOR CYBERSECURITY SPECIALISTS BY CREATING NEW TRAINING PROGRAMS AND POSITIONS FOR HIRING GRADUATES.
For example, the National Cyber-security Center-West (NCC-W) is a federal government organization tasked with promoting information sharing between states regarding cyber threats and incidents.
NCC-W also acts as a central hub for coordinating cyber defense among its member states.
Many more government agencies run similar training programs for future employees looking for government jobs in cyber security.
This creates excellent opportunities for students interested in working in cybersecurity without any experience needed.
EVERYONE NEEDS TO UNDERSTAND HOW IMPORTANT IT IS TO KEEP THEMSELVES SAFE FROM CYBERCRIMES AND DATA BREACHES RELATED THREATS.
Employers are eager to hire people with a good understanding of cybersecurity issues and strong computer skillsets.
Furthermore, cybercrimes are on the rise due to the lax supervision of modern technology by governments and corporations.
People need to use common sense when using technology and keep themselves safe at all times!
Everyone must understand how important it is to keep themselves safe online.
Breaches happen frequently and affect everyone using technology.
Plus, hackers can access personal data to create financial damage or manipulate people emotionally without consequences.
People need to use caution when surfing the web, logging into accounts, paying bills, or purchasing items online.
They should also back up their data regularly so it won't be lost if a breach occurs.
Everyone needs to do their part to keep themselves safe from cybercrime!
Cybersecurity is an important field that's becoming increasingly popular due to high salaries and job security.
According to the FBI's 2017 Public Access Report, there were over 182,000 people employed in the cybersecurity field that year.
This number is projected to increase in the coming years as new colleges offer degree programs in cybersecurity.
There are also many internships available for college students interested in learning how to work in cybersecurity.
Employers are eager to hire people with a good understanding of cybersecurity issues and strong computer skills.
Anyone can benefit from working knowledge of cybersecurity issues and skillset if he's willing to put in the effort.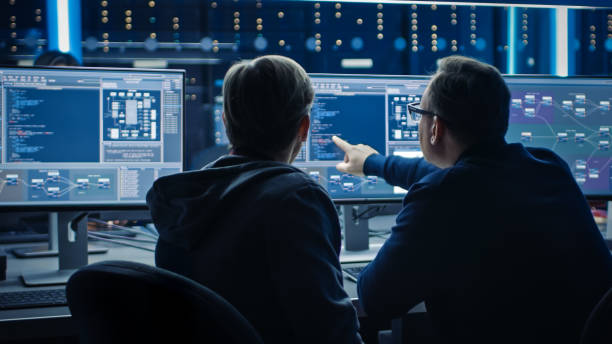 FIRST OF ALL, LET'S DEFINE WHAT CYBER SECURITY TRAINING IS.
Cyber security is a field of tech where you protect networks, systems, and information from attacks or errors.
An expert in cyber security is referred to as a cyber defender.
The field of cyber security is growing at a fast pace and there are many cyber security jobs available.
The US government has started investing heavily in the field of cybersecurity since the recent rise in cybercrime.
Governments want to hire the best people to help them combat cybercrime and protect their systems.
Also, companies want to hire the best people so that they can grow and protect their data.
CYBER SECURITY REFERS TO PROTECTING A NETWORK, SYSTEM, OR INFORMATION FROM CYBERCRIME.
There are many sub-domains of cyber security including cyber defense, cybersecurity engineering, and information security.
Many companies have started up in the last few years to train people in cyber security.
Cyber security is a rapidly growing field and there are many cyber security jobs available.
If you want to become a cyber security expert, you should start training as soon as possible.
Cyber security training is essential if you want to become an expert in the field.
It's best to start training as soon as possible so that you're prepared for any job opportunities in the future.
There are many types of cyber crimes and training keeps you safe against them!
Most common types: Several types of cyber crimes occur every day.
One type of cybercrime is hacking where one person accesses another person's system without permission.
Another type of crime is data theft where someone steals information from a system.
The hacker will then use that information to commit other crimes- this is called data manipulation.
Failing to secure your system against malware is another common form of cybercrime.
Malicious code can enter your system by bypassing your filters and security measures.
How do you prepare? Training is the best way to prepare for a job in cyber security.
You can train online or on physical computers so that you're ready for employers' needs when you finish training courses.
You can also train by interacting with professionals in the field to learn the skills you'll need for a job.
Training keeps you updated on the latest tools and procedures for securing systems and preventing cyber crimes.
In addition, it teaches you how to report malicious behavior or suspicious activity to authorities.