Cyber Security Engineer
Cyber security will protect a network, programs, data, and information from being accessed & damaged by computer viruses like an engineer.
It's an ever-evolving field that's constantly changing due to new technology.
There are numerous career paths you can take if you're interested in cybersecurity.
This includes working in the military, working for defense contractors, and working for the government.
Plus, there are many additional possibilities if you have a bachelor's degree in a computer-related field.
ONE POPULAR CAREER PATH FOR CYBER SECURITY ENGINEERS IS TO WORK FOR THE MILITARY.
The United States military is constantly trying to develop new technologies to keep their country safe and secure.
They use these technologies to protect military bases, government agencies, and other important systems.
Many of the systems they build are used to protect military bases from cyber attacks.
This is a very high-paying career path with excellent job prospects.
However, it requires a lot of training and education before you can work in this field.
To find out more about these jobs, you should learn more about cybersecurity engineering and its related fields.
Cybersecurity engineering is the discipline that governs how cyber security systems operate.
This includes planning, designing, implementing, and testing cyber security systems such as software, networks, and hardware systems.
It's also the process of collecting, analyzing, and protecting information from cyber attacks.
A lot of research goes into developing new cybersecurity technologies that help protect vital systems from cyber attacks.
Since cybersecurity has become so popular lately, there are many schools offering degrees in it now.
You'll need at least a bachelor's degree in this field before applying to any cyber security engineer openings.
CYBERSECURITY IS AN EVER-EVOLUTIONARY FIELD THAT RELIES HEAVILY ON NEW TECHNOLOGY AND INNOVATIVE THINKING.
Therefore, it attracts a lot of attention from both governments and corporations alike.
There are many different career paths you can take if you're interested in cyber security engineering, including working for the military or private companies.
However, you'll need at least a bachelor's degree in cybersecurity engineering first!
ANOTHER POPULAR CAREER PATH FOR CYBER SECURITY ENGINEERS IS TO WORK FOR PRIVATE COMPANIES OR GOVERNMENT AGENCIES.
These entities have the capital needed to build sophisticated cyber security systems.
They're also responsible for keeping their country safe and secure at the same time.
That's why they have high stKamirds for staff members who work for them.
All staff members must have a bachelor's degree in cybersecurity or another related field before they can work for the agency they apply to.
After getting hired, you'll spend most of your time building cybersecurity systems for your employer- but you can also help fix any broken systems your employers have.
This is also a very high-paying career path with excellent job prospects.
A cyber security engineer's role is crucial in protecting information and systems from hacking and destruction.
They investigate threats and determine the best course of action to counter them.
Essentially, they're the ones who make sure systems are secure.
In addition to that work, they also maintain those systems by updating software and hardware configurations.
Cyber security engineer is a smart people with a lot of potentials- but they need to work hard to realize it.
A cyber security engineer is a high-tech specialist who works on securing networks and data.
Network security is an expanding field, as computer and mobile technology become more advanced every day.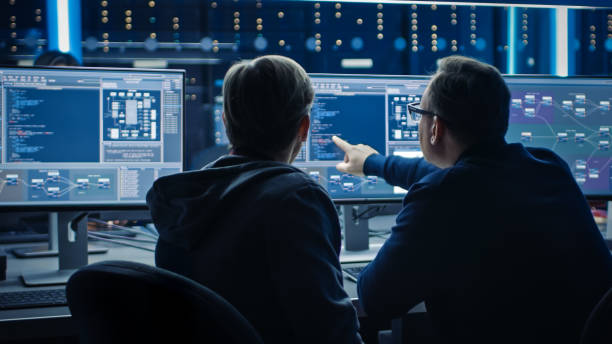 There are many career opportunities for cyber security engineers, and they're very lucrative.
However, getting into this field requires dedication and skill.
First, you'll need to decide whether working as a cyber security engineer is right for you.
To be a successful cyber security engineer, you'll need excellent technical aptitude, strong communication skills, and physical stamina.
You must also be willing to put in the time needed to learn new skills necessary for your field.
However, if you're willing to put in the work, being a cyber security engineer can provide you with many benefits both financially and emotionally!
There's no doubt that working as a cyber security engineer is difficult; however, it's also rewarding in many ways.
First of ALL, working as a cyber security engineer provides you with stable employment as the field continues to grow exponentially every year.
Clients are also growing in number due to the popularity of high-tech products such as smartphones and tablets.
Further growth is expected as countries build transportation systems, housing, and hospitals for their citizens.
Being able to work in such an exciting field is sure to inspire those seeking employment in this field!
To be a successful cyber security engineer, you'll need excellent communication skills.
Maybe effectively explain your work to clients and coworkers to receive a proper acknowledgment.
You'll also have to be able to process and analyze various data sets through mathematical and logical reasoning abilities.
This helps you make informed decisions while ensuring systems are secure.
You'll also have to be physically fit enough to troubleshoot computer systems in person or over the internet.
It's important to note that cyber security engineers are only part of a larger cybersecurity team.
They work closely with software developers and other specialists within the field to ensure a system's safety.
This is known as cyber security architecture or enterprise architecture, depending on the scope of the project.
Enterprise architects are responsible for developing an organization's entire IT infrastructure from scratch.
This includes networks, servers, storage drives, and more.
They also help develop rules for computer usage by employees and customers as necessary.
All these aspects come together to form a comprehensive cybersecurity strategy.
One of the primary roles of a cyber security engineer is to safeguard digital data.
They monitor computer networks, mobile devices, and other components that store or transmit data.
They also set protocols in place so hackers can't tamper with data while it's being sent or received.
This can prevent data loss, system crashes, and breaches of security clearance codes among other vital functions in the field of cybersecurity.
A CYBER SECURITY ENGINEER IS A VERSATILE CAREER CHOICE FOR PROGRAMMERS AND OTHER TECHNICAL EXPERTS.
A cyber security engineer designs and manages security systems for information and digital systems.
This includes software, hardware, and networks.
They also ensure all the software, hardware, and network systems function as intended and are secure.
Essentially, cyber security engineers work to keep important data safe and secure.
A CYBER SECURITY ENGINEER IS AN INCREDIBLY VERSATILE PROFESSION THAT CAN GROW WITH A PERSON OVER TIME THANKS TO ITS FLEXIBLE NATURE.
Many factors come into play when devising strategies to counter dangerous hacker attacks, so an entire team is required to make it work effectively in any situation.
Whether you're interested in devising new measures against hacker attacks or assisting other specialists with your knowledge, a career in cybersecurity could be right up your alley!
AS HACKERS BECOME MORE DANGEROUS AND POWERFUL WITH EACH NEW INVENTION, IT'S INCREASINGLY IMPORTANT TO DEVELOP STRATEGIES TO COUNTER THEM.
Cyber security engineers are responsible for devising protective measures against hackers.
In addition, they train other experts on how to counter these attacks.
This is an ever-evolving field as new strategies and tools become available to combat ever more dangerous hacker attacks.
As part of their job, cyber security engineers must be familiar with hardware design-related tasks such as CAD (computer-aided design).
They may be called upon to assist software developers with programming tasks as well.
Other responsibilities include conducting research on cybersecurity threats and devising strategies to counter them.
Other duties include performing system analysis, creating reports, or training others on cybersecurity issues within their organization or sector.
Essentially, cyber security engineers can do nearly anything their employer needs them to do in this field- as long as they have the relevant skills and experience required for the task at hand.
Highly skilled cyber security engineers command high salaries and are in demand throughout the world.
Employers want candidates who can plan and execute complex computer projects.
Most jobs are available in both public and private sector organizations.
Some common positions for cyber security engineer with good salary include network administrator, computer analyst, software developer, and software engineer.
To become a cyber security engineer, you'll need a bachelor's degree in computer science, cybersecurity, or a related field of study.
You'll also need to pass a series of exams to prove your knowledge of computer security stKalianrds, software coding, and other areas relevant to the field.
Cyber security refers to protecting information, systems, and networks from unauthorized access, destruction, or modification.
Both private and public organizations employ cyber security experts to safeguard their systems.
Since cyber security is a rapidly growing field, there are many opportunities for experienced professionals.
THERE ARE MANY WAYS A PERSON CAN PURSUE A CYBER SECURITY CAREER.
If you have experience in networking or web design, this may be the right path for you.
You can also become involved with cyber security as an academic pursuit by majoring in computer science or cybersecurity at a university or college level.
After graduating from school, apply for available cyber security jobs through online postings or by directly contacting employers with your degree in hand.
It's important to note that not all computer science degrees result in a cybersecurity career option.
It's essential to find out beforehand if your chosen degree will guarantee you success in the field of cyber security!
Cyber security engineer focus on defending against cyber attacks and cyber warfare.
They use automated software to protect critical systems against hackers and virus creators.
Some of these systems include firewalls, encryption, anti-malware, and data storage.
Engineers also create defensive systems to protect against denial-of-service attacks.
Essentially, this means protecting against server overloads that block information from reaching the owner's system.
A cyber security engineer is an expert in computer security, software engineering, information technology, and electronic and information technologies.
They must have at least a bachelor's degree in these fields.
Some of the responsibilities of a cyber security engineer include devising software protection mechanisms and identifying entry points for hackers to exploit.
They must be able to handle dangerous chemicals and should have excellent eyesight and hand coordination.
Last but not the least, they must possess strong communication skills since they interact with many different people throughout their careers.
To become a good cyber security engineer, one needs to focus on rigorous training in information security concepts and software engineering.
The training involves theoretical concepts as well as hands-on experience with computer systems and software applications.
After graduating from college, potential cyber security engineers should look for entry-level jobs in the industry sector where they can learn on the job and gain experience.
Over time, they can become experts in their field and enjoy good job security.
The world has become a global village with digital connectivity eliminating geographical boundaries.
However, this connectivity has also created chaos due to the transfer of information via computer networks.
In situations like these, a computer science specialty known as cyber security becomes very important.
In short, a cyber security engineer is a tech expert who specializes in protecting computer networks and software from malicious attacks.
A cyber security engineer is an expert who devises methods to prevent and mitigate cyber-attacks.
They are essential in all modern industries where digitalization is taking place.
Therefore, if you are a tech enthusiast who would love to protect our digital lives, consider becoming a cyber security engineer today!